The Inn at Spanish Bay
2700 17 Mile Drive, Pebble Beach, CA 93953, United States
Access
The Inn at Spanish Bay
The Inn at Spanish Bay/ one of three luxury properties within the exclusive Del Monte Forest on the Monterey Peninsula in northern California/ offers guests the choice of 269 luxury guestrooms/ five tantalizing restaurants/ The Spa at Pebble Beach/ 14/000 square feet of conference facilities/ Equestrian Center/ the full-service Spanish Bay Tennis Club and preferred tee times on Pebble Beach Golf Links *Host of the U.S. Womens Open 2023 and U.S. Mens Open 2027*/ Spyglass Hill Golf Course/ and The Hay short course.

To view the cleanliness policy for this property please visit the property page listed on Preferredhotels.com.

Located in the Del Monte Forest on the coast of California*s Monterey Peninsula/ 130 miles south of San Francisco and 330 miles north of Los Angeles. Nearby are historic Fisherman*s Wharf and Cannery Row/ the Monterey Bay Aquarium/ the boutiques and galleries of Carmel-by-the-Sea/ Carmel Mission Basilica/ the National Steinbeck Center/ and the magnificent Big Surcoastline.

Please wait for the best offer to appear.
We are pleased to present the greenest hotels in the world. Our daily actions make the difference and the world greener.
Accessibility
The Inn at Spanish Bay
2700 17 Mile Drive, Pebble Beach, CA 93953, United States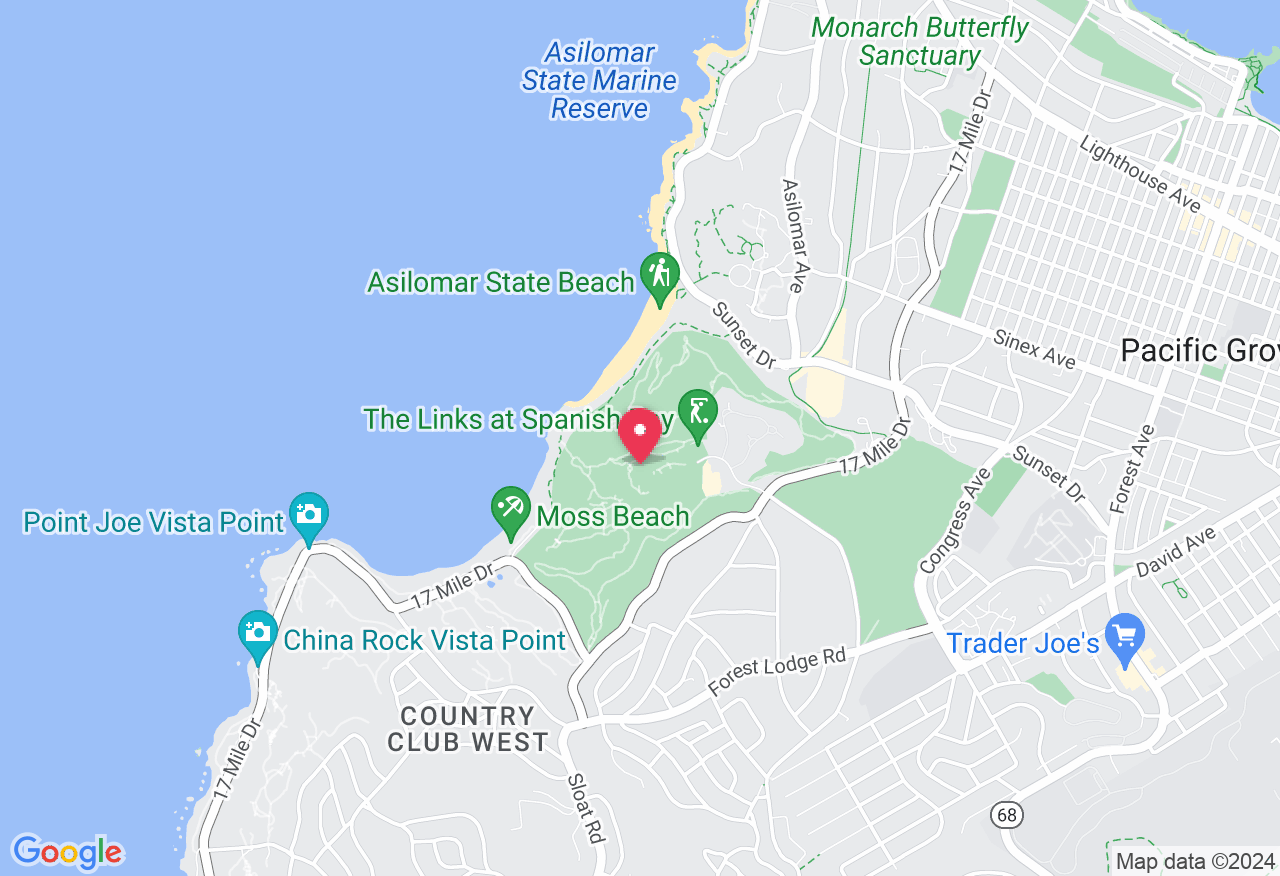 Access
Check travel time and distances between your hotel and your favorite place.
Top 10 attractions
Hotel
Transportation
FREE airport shuttle
FREE parking
Transportation - local area
Transportation - local office
Front desk
Bell staff/porter
Concierge desk
Early check-in
Late check-out available
Storage space
Tour/sightseeing desk
Work away
Business services
Photocopy center
Secretarial service
General
Air conditioning
Exterior corridors
Interior corridors
Hotel service
24-hour security
Doctor on call
Dry cleaning
Full service housekeeping
Housekeeping daily
Laundry/Valet service
Security
Valet same day dry cleaning
Wakeup service
Outlets
Gift/News stand
Hairdresser/Barber
Sundry/Convenience store
Travelling with others
Babysitting service
Children welcome
Accessible
Accessible facilities
Accessible rooms
Events
Catering services
Conference facilities
Meeting rooms
Recreation
Pool
Heated pool
Outdoor pool
Pool
Wellness
Jacuzzi
Massage services
Sauna
Spa
Whirlpool
Sport
Golf
Hiking trail
Tennis court
Cultural
Children's program
Games / movies
DVD/video rental
Food and Drink
Meal plan
Buffet breakfast
Services
24-hour room service
Room service
Breakfast
House policy
Check-in Time: 16:00
Check-out Time: 12:00
Cancel policy
Reservations must be received 14 days prior to 4pm local time at the hotel to avoid forfeiture of deposit. Cancellation policy may change at any time and may vary by rate type and season. Please be sure to read the individual rate rules. No show policy is strictly enforced.
Travel with others
Children policy
Children 17 and under stay free with paying adult and using existing bedding. Over 17 years old full adult rate applies.
Payment type
Most helpful reviews - Google and TiCATi reviews 9 37 reviews
Matthew Zolezzi
3 years ago – Google
9
So relaxing and well done. Beautiful hotel and gold course.
Lonnieta Mccallum
4 years ago – Google
9
Across the street from my house and I feel so lucky! Sticks has great food and a fun atmosphere. Roy's is the best experience for a special night.wxpensive but worth it,fabulous food and drinks .At sunset the bagpiper plays and walks up and down the hills at waterfront playing!!!music in the lounge is always goood(expensive ) drinks and great entertainment.
Ralph Roy Ramirez
4 years ago – Google
9
Great place for special treatment and service. Beautiful surroundings and excellent service. A special place for building perfect relationships with ole friends
B-House Joneleit
4 years ago – Google
6
It's a very nice hotel with a great staff though it's a bit limited. They really need to have a real person answer the phone as the current auto answering service takes you through several automated menus. Also, the gym is very limited hours so if you're golfing during the day it's not very practical. For the cost, the facilities should be more accommodating. Also, they missed making the beds one night there despite me being out of the room the entire day (with no signs on the door).
Amorina Darling
4 years ago – Google
10
We are a vegan family and we are so pleased with how well we fared at Spanish Bay. The food was great. Every place you can eat can accommodate vegan. One of the room service managers is actually a vegan and he was super helpful during the beginning of our stay. He told me all I needed to do was tell them what kind of ingredients I liked in my dishes and they would make something special for us. All of the spa/bath products are cruelty free, which is nice. Everyone who works there is so incredibly nice and they actually knew what vegan meant (like, every single person I dealt with had a clear understanding, which is amazing). They even marked in our reservation that we were vegan. We will definitely be going back!
Sarah Redd
5 years ago – Google
8
I went to the restaurant for lunch. It's pretty fancy, with a Hawaiian food theme. The prices are high ($35 for a bento box), but the food was tasty, with good service and a great view. It's a very touristy area catering to wealthy people; set your expectations accordingly.
Ron Galieti
5 years ago – Google
8
We were just there for an hour or two checking out the cars for Car Week, but the building and surroundings were gorgeous. It definitely made us want to stay there someday when we can afford it! Our only complaint was the hand soap in the bathrooms was VERY strongly scented and overpowered the taste of our drinks from the bar.
John Conn
5 years ago – Google
10
Top notch facility. We were attending an event for car week. It was organized really well. The staff was beyond friendly and helpful. Can't wait to return for a longer stay.
Josh Marr
5 years ago – Google
9
Very professional and polite staff. Very elegant. Located convenient by the ocean. Beautiful view. Would recommend for another event.
Don Cummins
5 years ago – Google
9
Just came for the beach, rather than the hotel. Really nice area though... nice views.
Garima Singh
5 years ago – Google
9
5 stars on location! This was the best place to view the bay as well as the amazing sunset. The property itself was very beautiful and spread out!
William Roberts
5 years ago – Google
9
Had a Great dinner at Roy's. There were seventeen of us (all family) Service and all the Food was excellent. The Service was above and beyond expectations, we had a full crew taking care of us. WOW!
Wilderness Survival instructor Personal Account
5 years ago – Google
9
I appreciate staff first, service second, resort amenities last:

I saw a good host of their hospitality staff during my visit and I think they were all wonderfully helpful. I know it must be difficult to remember visitors in a sea of hundreds but those people held a memory like a steel safe. I honestly felt like I had a private Butler who had known my quirks for the past decade.

The catering got a bit overwhelmed when we had a large gathering, but you could see both the stress on the faces of the staff and the dedication that they wanted things to be "just right". Reading those subtle social cues really makes you appreciate them.

Building was clean, everything tidy. Nice visit.
Chris Laoagan
5 years ago – Google
8
I figure, why not share the wealth right? that's why I thought it might be a bit pricey to some. But other than that, it's a great experience. Definitely one that will go in the books.
A Moose
5 years ago – Google
9
Great staff, environment and services! A wonderful place and the view doesnt hurt. Friendly and accommodating without feeling stuffy, 10/10
JGL
5 years ago – Google
10
Really enjoyed our time at the Inn at Spanish Bay. Definitely a top notch facility. That being said, you're definitely paying for the location. The hotel is great, but not $790 a night great, but given that you get access to all the golf amenities the price is probably worth it.
Frank LoPorto
5 years ago – Google
10
Great place to stay and enjoy the magnificent views. Very comfortable rooms. Pricey but worth it for a vacation.
carl palminteri
6 years ago – Google
10
Great brunch with family and friends. All our food came out together...hot and delicious. Excellent service.
Kevin Sharpe
6 years ago – Google
9
Accommodations were excellent and the staff was very helpful. Being located right on the course was great. Perfect ocean and course view.
LockStockBarrel
6 years ago – Google
10
Excellent customer service, the location is beautiful with easy access to the ocean and a beautiful golf course. There are great roads to bike on and trails to hike. Rooms were impeccable.
Scott Calley
6 years ago – Google
8
Well managed, very professional staff.
Food is excellent as expected. Menu offers something for everyone. Only negative, is the noisy dining room. Don't go for a quiet intimate meal on a busy night......
Arnold Flores
6 years ago – Google
9
Romantic, quaint, sexy, elegant, casual, refreshing, beautiful. Great place to chill and enjoy drinks, a romantic stroll over looking the Pacific Ocean, hold hands and kiss on the veranda, listen to jazz or smooth music inside or outdoors. Good food. Bring a coat or warm sweater toward evening. Gets chilly. Great cuddlying weather.
S A
6 years ago – Google
10
Beautiful hotel, wonderful grounds. Very luxurious and high class. Expensive though, be prepared to spend out the whaaa-zoo, but if you have the loot to spend, it's worth every single dollar.
Matt Maleki
6 years ago – Google
8
Absolutely wonderful with a great view of the water. Prety elegant and also a down to earth feeling. Definitely a place to enjoy for a weekend or even longer. It has the best of amenities and helpful staff. I enjoyed my visit, wanted to stay longer.
Matt Maleki
Liz Green
6 years ago – Google
9
We sat by the fireplace and listened to the bagpipes at sunset and it was amazing! ! You can't go wrong with this kind of atmosphere being next to the ocean and warm fireplace it is truly a slice of heaven! !
Indie Harris
6 years ago – Google
9
We stopped here for drinks and the sunset bagpipes. We had a lovely time and met some very nice people who told us of more must sees in the area. They make a delicious Old Fashioned. Yum!
Cory Lui
6 years ago – Google
10
My wife and I love coming here. We're too poor to ever stay here as overnight guests and it's obvious when we walk into the hotel because we're not dressed as nicely as everyone around us, but that doesn't stop the awesome employees from helping us feel right at home! My wife and I make an annual trip to Monterey and we always make sure to stop at the Inn at Spanish Bay for lunch before we leave. Service here is always fantastic and they bring lunch out to you while you sit comfortably by the outdoor fire pits! The employees are warm people and professional workers. They will cater to your needs to make you feel welcome and comfortable. The employees are friendly and will spark conversation with you. Then there's the food. The club sandwich and the burgers here are amazing! Best club and fries in the Bay Area. I order the same thing every year and the quality never changes. This place is 5 stars!
Tim Wachter
6 years ago – Google
10
We were at the Inn at Spanish Bay for drinks at Roy's. This place has one of the best views on the coast of California. Beautiful decor and furnishings - but it's a little pretentious. Outdoor there is a great patio and fire pits for the evening. The staff is very friendly and customer service was excellent
Weston Rowan
6 years ago – Google
10
We enjoyed a hearty lunch in the bar, with some friends. The burger and the fslish tacos were great. The drinks were inspired, and the view was breathtaking. Friendly, competent staff rounded out the experience.
kerry on
6 years ago – Google
9
Astounding! Fabulous! Incredible. Cannot wait to return.First Impression: The Valet team were so professional - then the team at the Front Desk who were the epitome of service and professionalism. Our 4th floor room was sublime; the meals Lobby Bar, Peppolis and drinks at Traps were great. Our Stay and Play Golf Package was the best,
Hannah Long
6 years ago – Google
9
After a round of golf my husband and I stayed for the bagpiper who starts playing at the 1st hole around sunset. So we grabbed a firepit table and ordered a couple drinks and some appetizers. We order the pork sliders, which were delicious. My husband picked out the nachos, they were huge! We filled up just on those things but couldn't resist ordering a carrot cake to go. We were very happy with what we had and all the employees were very friendly and helpful.
Debbie Meyer
6 years ago – Google
9
Beautiful place, holiday ready and wonderful decorations through out the lobby and property. Also had a nice dinner at Roy's. Highly recommend. ... ;~}
Chas Grimm
6 years ago – Google
9
The bar/outdoor drinking area at Spanish Bay Inn is one of the hidden gems of California. The scenery is unbelieveable, especially at sunset when the bag pipes are playing. Truly the epitome of why everyone should visit California at some point during their lifetime.
David Mosk
6 years ago – Google
7
The restaurant is beautiful as it is overlooking the ocean and Pebble Beach golf course. The views are spectacular and the food was very good. If you're visiting Pebble Beach or are on the 17-mile drive, this is a worthy stop to add to your trip if you're hungry.
Rick McMillen
6 years ago – Google
10
Great experience celebrating my birthday with a three day golf outing with the family.

First class all the way.

Make sure you video the bag Piper at sunset by the patio over looking 2nd green
Jes M
6 years ago – Google
9
The Inn at Spanish Bay was a delight! Pebble Beach is a must visit location for locals and out of towners. The classy service breath-taking views along the central coast and year round consistent cool weather should be reason enough to come and experience this part of California.
michele lee
6 years ago – Google
7
The daily bag piper at sunset by the beach is amazing. The fire pits were very cozy. However there were used wine glasses laying around every where that hadn't been cleared and the furniture in the lobby was a bit dated. Sunset was spectacular.
Titus Avila
6 years ago – Google
9
Was out riding my bike and stopped for a glass of wine and some calamari on the terrace. Gorgeous views and attentive staff. The calamari was fantastic.
Bryson Koehler
6 years ago – Google
9
A truly world class hotel, staff and location. Hard to beat Pebble Beach and the incredible views, walking trails and outdoor space. Rooms are nice, clean and well maintained.
Andrew Peck
6 years ago – Google
7
Comfortable but a bit worn around the edges. Classical 1980s decor. Lovely view from the outdoor terrace bar. Not cheap.
Pat Kelban
6 years ago – Google
10
Just attended Roy's luau on Saturday. It was fabulous!!! The food, the entertainment and wine tasting was just amazing. If you ever have a chance to attend next year's event I would highly recommend it.
Geoff Walsh
6 years ago – Google
7
Great place for outside drinks and appetizers watching the sunset. Super scenery, but Roy's gets so crowded on weekends and during the summer. Good food inside, and terrific adult drinks. Not a good place to eat or drink if you're in a hurry, so patience is essential. If you hate valet parking like me, there is a convenient and free self park lot
Justin Schoell
6 years ago – Google
7
Great atmosphere inside or out. right on the ocean. Good drinks and service. Food is good but nothing too special
Jesus Rojas
6 years ago – Google
8
I was there for a professional event and the rooms are amazing. Service is incredible. And people are very hospital.
Joseph Hauser
6 years ago – Google
9
Dinner at Roy's. Fantastic personal care, when they created a personalized menu for my FIL when told it was his birthday. We ordered one item from each section of the menu and loved every minute of it. Order the Tea for Two!
greg baden
6 years ago – Google
10
Great restaurants. Fantastic views. Beautiful gold course. Popular patio bar area. Traditional playing of bagpipes
Kevin Bunker
6 years ago – Google
9
Great staff. Great course. Spectacular views. Some fairways in pretty bad shape though. Still a fun track though.
Scott Duncan
6 years ago – Google
10
Excellent food, excellent friendly service, beautiful location, you get what you pay for
Oliver Meister
6 years ago – Google
9
Ate at Sticks for a late lunch, it was very good. Consistently improving since I started eating there years ago.
Don McCay
6 years ago – Google
10
Among America's finest resort hotels. Everything is done to perfection. Our room is luxurious, the grounds are perfect, there are great restaurants (and Sticks, the best bar anywhere) and an undescribable ambiance of being in Pebble Beach that is unmatched anywhere else in the world.
sridhar krishnamurthy
6 years ago – Google
7
Nice restaurant with great Service. Veg fried rice and noodles were hot and tasty. Veg sandwich was more a veg burger than a sandwich.
Gregory Lerch
7 years ago – Google
7
Enough parking for anyone. Had lunch on the outside patio of The Sticks restaurant. Good service and reasonable pricing. Also one of the best desserts I've ever had - the cookie skillet. Sticks Ale was a decent beer resembling serveral fruits
Renata Hickey
7 years ago – Google
9
The absolute best place in Pebble Beach. Any stress one accumulates will totally be eliminated while having drinks outside, in front of their fires. If you have the opportunity to be there during sunset, when the classic Scottish gentleman plays the bagpipes, you will truly feel ultimate bliss.
Dawn Stanko
7 years ago – Google
9
The people here were awesome and very attentive. I would definitely stay here again on our next visit. The food was delicious and the rooms were comfortable.
Dan Justice
7 years ago – Google
7
Went for some drinks and to listen to the bagpipes. Drinks were good and only slightly pricey. The outside seating is comfy with a fire to warm up on a cool evening.
Claire Cettel
7 years ago – Google
5
The Atmosphere and view we're very nice, service was great, but the food at Roy's was not as good as I expected. The fish and steak seemed good, but the burger buns we're dry, salads we're average and there was only 1 vegetarian option on the whole menu. The menu was actually less expensive than I expected, $$-$$$, but the buffet option was almost $60! Not sure why that was so much more than any meal.
Maureen McEachen
7 years ago – Google
9
We attended a party outdoors on the patio. The host provided drinks and heavy hors dourves. The bagpiper played in the distance and was a beautiful background music as the sun gently set on the water. Excellent!
Nigel Tunnacliffe
7 years ago – Google
10
Great bar menu in a beautiful setting. It was windy and cold when we were there, but they had blankets so we could still enjoy the outside. A nice touch!
Alejandro Musquiz
7 years ago – Google
10
Went there for drinks at sunset. There's a great view. Kind of pricey but that's to be expected for the area.
Clayton McLaughlin
7 years ago – Google
9
The service is top notch, as expected. The resort has a ton to offer, from amazing golf to an active social scene. It's not uncommon to sit outside during sunset listening to bagpipes & run in to a celebrity or pro athlete, refurbish during the AT&T Pro-Am.
Cory Lui
7 years ago – Google
9
Though I've never had the money to stay as a guest lol me and wife love coming here. We always stop here when we do the 17 mile drive. The food here is amazing and the staff never makes you feel like you don't belong even though you're not a guest. They treat you special and are willing to go out of their way to make you have a great experience. I love that!
Sunni Mullinax
7 years ago – Google
5
We visited the Sticks Grill. Casual dining with good service. Nothing but ordinary. We were starving post golf and opted to eat here to avoid a wait common at the better lunch spots in Pebble. Wouldn't go back unless starving. Decor is marginal at best.
Matt Beck
7 years ago – Google
10
We went to Roy's for lunch on a Saturday. It was oddly quiet, probably because of the storms that week. The service was friendly and excellent. I highly recommend the Butterfish. I went with the bento box because it offered a great number of delicious choices for a mid range price compared to the rest of the menu. We also had the chance to sample their delicious bbq ribs. All of this while enjoying picturesque views of the ocean. The whole experience was great!
Stefanie Durich Beck
7 years ago – Google
10
We had lunch at Roy's and enjoyed the overall experience. Hotel staff was friendly and attentive and the lobby was beautifully maintained. Staff at Roy's was also friendly and attentive. The restaurant was well kept and food was delicious. Service was speedy and friendly. We will definitely return.
Phuc Luong
7 years ago – Google
8
Beautiful view of the ocean. Nice and clean. Surroundings are nice as well.
Renata Hickey
7 years ago – Google
9
The absolute best place in Pebble Beach. Any stress one accumulates will totally be eliminated while having drinks outside in front of their fires. If you have the opportunity to be there during sunset, when the handsome Scottish gentleman plays the bagpipes, you will truly feel ultimate bliss.
Acacio Cruz
7 years ago – Google
5
A fabulous location, at premium prices but with a surprisingly shabby interior decoration: at almost $1000/night one doesn't want to see cheap plastic bathroom cabinets, the cheapest shower faucets and other basic WC components that were OK in the 70s but no longer acceptable.
A taste that caters to old money tastes (emphasis on old). But, if you crave Nordic modernist interiors, curated design, minimalism and the contrast of raw materials, this is not the place for you.
Sammy Baho
7 years ago – Google
9
The inn at Spanish bay is a great place for drinks and socializing even if not staying at overnight. Great restaurants, excellent drinks and service and the most amazing view. Come at sunset to watch the bag piper and enjoy s drink, get there early to get a seat by the fire pits.
Quynh Pham
7 years ago – Google
7
Priceless view and terrific food. Great place to just chill with family and friends after a long day.
Ben Long
7 years ago – Google
10
Stopped by on our honeymoon to experience the bagpiper at sunset. It was wonderful! The staff was courteous and professional! We enjoyed our drinks and the drive to and back along the coast.
Ian Jacobson
7 years ago – Google
9
Sat for lunch with an excellent view of their good course and the ocean. Had an amazing burger there. Service was timely and polite. Would eat here again

Jeffrey Siegel
7 years ago – Google
9
Amazing views of Spanish Bay coast. Great place to do a nice dinner at Roy's at pebble beach. One of the best spots for sunset drinks on 17 mile drive.
jfleisch321
7 years ago – Google
9
Excellent experience. I drove through on 17 mile drive just to take a look. The staff was very helpful and let me walk on the course a little bit. I didn't get to play the course because I wasn't staying in the resort, but the staff made me want to stay even more.
JackelN20
7 years ago – Google
9
Beautiful setting. Sitting out back in the fire pits was amazing. Really nice setup.
Eliza Vien
7 years ago – Google
10
I visited this place as it is one of the sights to stop at for the 17 mile drive scenic route. Parking was plentiful and the walkway to the entrance was beautiful with colorful potted flowers. The place was decadent and clean. The staff was friendly.
Luis Sanabia
8 years ago – Google
10
Very clean with amazing service. Woman who helped me was absolutely friendly and awesome.
Wes Dodd
8 years ago – Google
10
Beautiful views, great food and drinks, and great people. Amazing golfing.
Dean Meintjes
8 years ago – Google
10
Great outdoor seating with firepits, drinking and eating to the sound of a bagpipe as the sun sets. Exceptional service and a must see if you're on 17mile drive.
Jennifer Azevedo
9 years ago – Google
9
Beautiful! Tranquility and all the activities you could want at your fingertips. The staff pays attention to details and are very helpful, the entire inn is immaculate.
Jaime Phalen
9 years ago – Google
7
This review is based ONLY on the wine bar. We did NOT stay at the hotel. Stopped here on our visit along 17-mile drive. Staff were friendly and attentive. Esposa and I split a bottle of white wine with our best friends and enjoyed the great view outside from the lawn. Coming from Texas, it was interesting to see fire pits outside. Very nice place.

Last booked 46 minutes ago
2 people currently looking at this hotel