Trump International Hotel & Tower New York
One Central Park West, New York, NY 10023, United States
Access
Trump International Hotel & Tower New York
Trump International Hotel and Tower-the only Forbes Five Star and Five Diamond hotel with a Five Star and Five Diamond restaurant in New York is an icon delivering the highest level of service style and exclusivity. The impressive 52 story glass tower is located at the juncture of Central Park Columbus Circle and Broadway. Inside the hotel guests enjoy a higher level of luxury with unrivaled hospitality and detail oriented amenities.

Trump New York is home to 176 newly renovated guest rooms and suites featuring fully equipped kitchens with Sub Zero appliances 55 inch flat panel HDTVs with Blue Ray DVD player and iPod docking station and 10 ft. floor to ceiling windows showcasing unparalleled views of Central Park and the City.

Dining in Three Michelin Starred Jean Georges offers the finest contemporary international cuisine in Manhattan. The restaurant also provides 24 hour in room dining for guests who prefer to enjoy the five star fare in the comfort of their room or suite.

Trump New York offers unrivaled hospitality and detail oriented amenities including Trump Attache guest services a 6000 square foot spa and health club and a 55 foot heated indoor pool all within steps of the most fabulous shops and entertainment in the world.

A 100 % smoke free hotel. Smoking policy a non refundable 500 USD plus tax fee will be applied to a guest*s bill who smokes in their accommodations

Soaring 52 stories above Central Park we offer spectacular views of Central Park and the Manhattan skyline. The hotel is perfectly situated at the juncture of Central Park Columbus Circle and Broadway. Steps from Lincoln Center Carnegie Hall and the fabled shopping on Fifth and Madison Avenues. Conveniently located near all midtown businesses perfect for the corporate traveler. JFK International Airport is 60 minutes and LaGuardia Airport is 45 mins from the Hotel by Limousine or Cab.

Please wait for the best offer to appear.
We are pleased to present the greenest hotels in the world. Our daily actions make the difference and the world greener.
Accessibility
Trump International Hotel & Tower New York
One Central Park West, New York, NY 10023, United States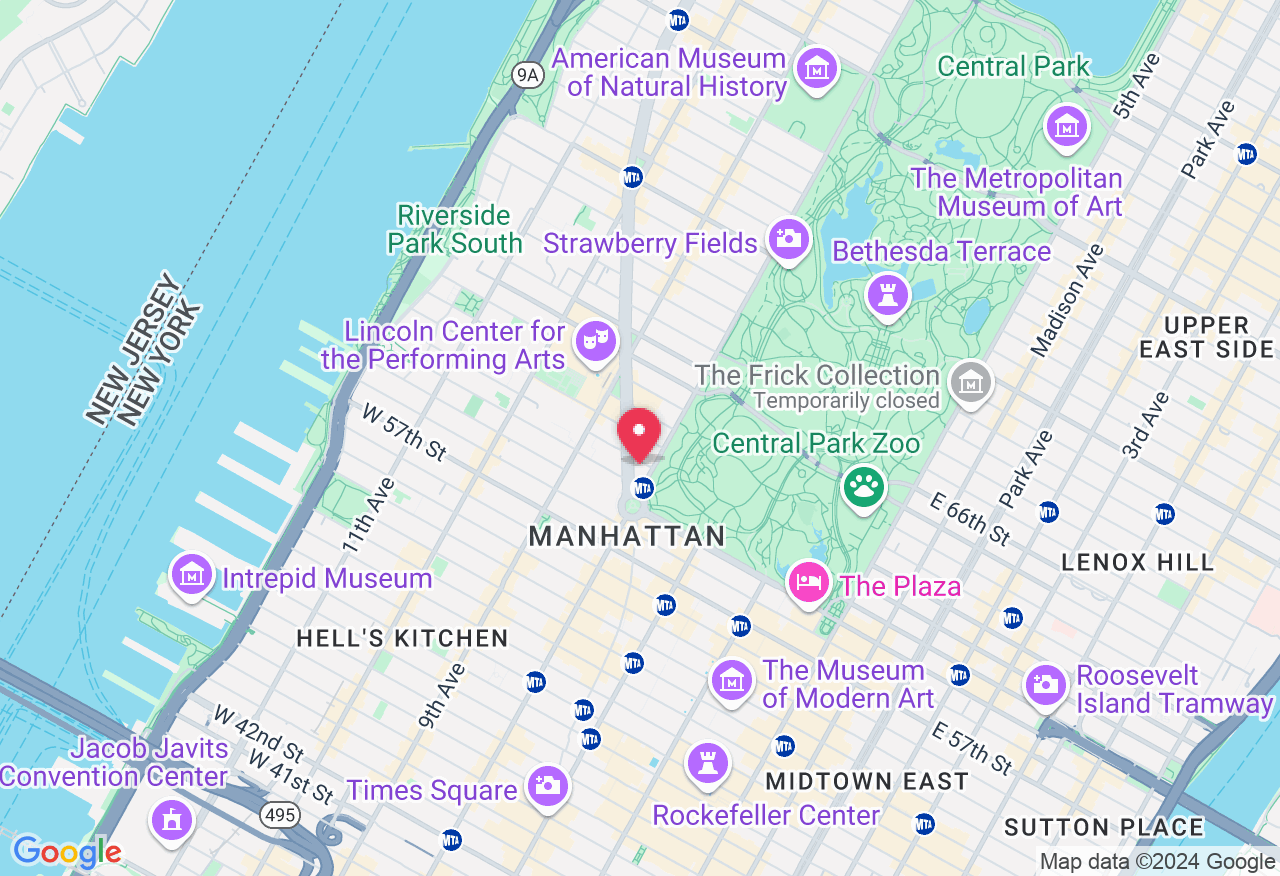 Access
Check travel time and distances between your hotel and your favorite place.
Top 10 attractions
Hotel
Internet
FREE Internet access
FREE WiFi
High speed Internet
High speed wireless
Transportation
Indoor parking
On-Site parking
Parking
Valet parking
Front desk
24-hour reception
Bell staff/porter
Concierge desk
Early check-in
Late check-out available
Storage space
Technical concierge
Tour/sightseeing desk
Work away
Business center
Business services
Fax service
Photocopy center
Secretarial service
General
Air conditioning
Exterior corridors
Non-smoking rooms
Hotel service
Currency exchange
FREE shoeshine
Grocery shopping service available
Laundry/Valet service
Public address system
Safe deposit box
Security
Turndown service
Valet same day dry cleaning
Wakeup service
Travelling with others
Child programs
Children welcome
Family plan
Pets welcome
Accessible
Accessible facilities
Accessible parking
Accessible rooms
Elevators
Events
Catering services
Conference facilities
Meeting rooms
Rooms
Communication
Portable phone
Speaker phone
Two-line phone
Voice mail
Bathroom
Bathrobe
Bathroom amenities
Bathroom telephone
Bathtub/shower combination
Closets in room
Hairdryer
Private bathroom
Food & Beverage
Coffee/Tea maker
Kitchen
Microwave
Mini-refrigerator
Minibar
Plates and bowls
Pots and pans
Refrigerator with ice maker
Silverware/utensils
Stove
Toaster
Wet bar
Entertainment
All news channel
AM/FM radio
Cable television
CD player
DVD player
Newspaper
Pay per view movies on TV
Stereo
TV
Business
Data port
Desk with electrical outlet
Desk with lamp
Direct dial phone number
Spare electrical outlet available
General
Alarm clock
Converters/ Voltage adaptors
Electrical adaptors available
Iron
Ironing board
Safe
Self-controlled heating/cooling
Recreation
Wellness
Health club
Massage services
Spa
Cultural
Children's program
Food and Drink
Meal plan
Continental breakfast
Full american breakfast
Special attention
FREE coffee in lobby
Services
24-hour room service
Room service
Outlets type
Lounges/Bars
Restaurant
Breakfast
Continental breakfast
Full american breakfast
House policy
Check-in Time: 16:00
Check-out Time: 12:00
Cancel policy
48 hour hours prior to arrival from Jan-Aug by 4pm EST. 72 hours prior to arrival from Sep-Dec by 4pm EST. Non cancellable over Thanksgiving time period and for certain special rates.
Travel with others
Children policy
Children under 17 years old stay free in same room as parents.
Pets are allowed upon request
Dogs under 25 lbs incur a mandatory cleaning fee of 250USD - no other pets allowed. Fee includes Signature Trump Pet Amenities.
Payment type
Welcome capacity
Number of Meeting Rooms: 2
Number of Sleeping Rooms: 176
Largest Meeting Room Size:

378 sq. ft.

Largest Meeting Room Capacity: 30
Parking
Accessible parking
Indoor parking
On-Site parking
Parking
Valet parking
Most helpful reviews - Google and TiCATi reviews 7 121 reviews
Laura Randall
3 years ago – Google
10
We stayed after our 4th of July plans were canceled at another location due to COVID. This hotel is a six star diamond hotel and it definitely lives up to the expectations. We arrived we were double upgraded to a corner suite with a full kitchen, view of Central Park and Columbus Circle. They also provided PPE welcome kits for each guest. When we arrived to the room it was stocked with Veuve Cliquot champagne, milk, cookies, and espresso. The room was beautiful, decorated floor to ceiling with luxe amenities - dining room chandelier, lighting systems, and electronic window shades. Outside of the rooms, you can take a stroll through the park and there are plenty of shopping boutiques around the circle. This hotel will surely help to make for a memorable stay in the Big Apple.
Irina Kuzminskaya
4 years ago – Google
10
I cannot find anything or anybody to find faults with. Stayed for the 2020 NY`s eve. Everything was superb! All of the staff members were very kind, hospitable, and helpful. Check-in took 1 minute sharp. Corner junior suite on the 17th floor was exquisite. Lots of useful amenities in the room. We could even watch the fireworks from our window. Hope to come back soon!
Susanna Alan
4 years ago – Google
10
Me and my family always have a great time at trump hotel! Because of the great stuff I feel myself at home. Thank you for make my dream come true putting Christmas tree in our suit during our Christmas vacation in NY. See you real soon!
Joel Andrus
4 years ago – Google
9
From the moment we stepped onto the property, we were greeted by the warm and friendly staff. Hot towelettes were provided for our hands as we were checked into our room. Also, special consideration was given as we were anniversary. The room was lovely - well deserving of the 5 star status.

Simply put, this property delivered on every level. We will be returning with our business most definitely!
Kevin Westley
4 years ago – Google
10
Arrived late, but they were very accommodating. It was my birthday. Not only did they have a cake in the fridge, but candles and matches too. Very kid friendly. Had a birthday party in the room with some friends and their young kids, the room service made sure to send kid friendly items up for food and plastic covered cups. We then walked across the street to central park, then too the zoo. Centrally located...
daniil lavrinovich
5 years ago – Google
9
I was not inside of the tower, but judging by the outside of it I can imagine that the inside is of higher quality. There is wheel chair accessibility everywhere outside to get in, the plants are well taken care of outdoors, it is clean around the building, and there is a surplus of seating areas around the outside of the building. Can't even imagine the high quality design inside. Overall - awesome place 10/10 would recommend.
min kim
5 years ago – Google
10
Room was fantastic and the customer service is top notch. This location is spot on. Customer service is second to none and the rooms are amazing. Central location makes it easy to get around and amenities are top notch also. Parking garage is courteous and professional also.
Gal Ashkenazi
5 years ago – Google
7
The location is very good on Columbus circle one minute from the subway. But for that price (suite with park view), the Ritz-carlton is much better.
The bathroom at the trump is tiny, and only has a small bath without additional shower. The water pressure is very low . The bedroom is small the curtains are manual, not enough light in the room.
The cleaning is fine could have been better.
The good thing is that they leave you nice chocolate and water bottle in the room every day. Jean george food to order to the room and nice view of central park
waleed abdulaziz
5 years ago – Google
9
Very nice hotel. Everything was perfect. A/C was cold. Beds are comfortable. Helpful staff. Very clean. Thank you Mr. President for that kind of hotel.
Kevin Brkal
5 years ago – Google
9
The service is top notch, anyone who says otherwise never stayed here. All staff is beyond nice and go above and beyond. We celebrated a birthday and they brought us a chocolate cake from Whole Foods. I also forgot my iPhone charger and they let me borrow one.

The decor is nice but could us a little updating but its still very nice.

Try to find another hotel with the same amenities and this level of service at this price point in NYC. Lets be honest you won't. So do yourself a favor and book here.

Location is also ideal right by the park.
The Robinettes
5 years ago – Google
9
What can I say? You expect the best and you instead you get a superior experience that sets the new bar for " The Best". Hands down best Spa in the city! From services to an elegant staff that is very accommodating, you will not have a better experience anywhere else in NYC!
Andrew Sinnett
6 years ago – Google
9
Wonderful hotel, friendly, helpful staff. Clean rooms with amazing amenities and views over Central Park. Great location on Columbus Circle means you can access most sights and locations easily. Highly recommended.
Chris Voigt
6 years ago – Google
9
There's a reason it's a 5 star establishment. Your visit will always be a quality experience, and Trump Hotels are always conveniently centralized among the sites! This location is perfect for being able to walk about anywhere! Having Central Park right outside the door helps escape the city as well!
R B
6 years ago – Google
10
This hotel is great, everything about it from the staff to the lovely rooms and the food was excellent. I have never had an issue at any of Trumps hotels and i have always had the best of the best experience. It is a shame that people are taking their ignorant political views to their reviews. Some are actually contradicting, one person said they didn't have any Spanish people there and another said no one speaks English, which one is it? At my time of stay i saw every ethnicity there and as a Latina myself i can't complain about the people or the language they spoke.
Dario Impini
6 years ago – Google
9
Its sad that people take their political frustrations out on a very nice organization. This is one of the very best hotels I've ever been in. The service is of the highest quality as is the attention to detail in every respect. Bed/pillows were comfortable and if the pillows didn't please you they provided a menu of alternative pillows to choose from, including scented.

Its location at the southwest corner of Central Park was of course ideal for access to central NYC. You will not be disappointed staying here.
John Oliver New York
6 years ago – Google
9
We stayed in a suite with view over the city, and it was amazing. The room was modern, with a really nice kitchen and the view... it was beautiful. It was on the more expensive side, but you get your moneys worth. We had a bedroom, a living room, a kitchen and a big beautiful bathroom.
Summer Afternoon
6 years ago – Google
9
Very happy with our stay and we've stayed at several 5 star hotels in NYC before. The staff is so attentive and professional. We came back to our room to find our bed turned down with chocolates, fresh water and everything was put in its place. We were very comfortable and would definitely stay there again.
Tony Vastano
6 years ago – Google
9
I stayed here on my birthday and it was a wonderful experience. In my room was a full cake, free of charge. Excellent view of the city and central park. Great place to stay.
Linn Greibert
6 years ago – Google
9
We stayed in a suite with view over the city, and it was amazing. The room was modern, with a really nice kitchen and the view... it was beautiful. It was on the more expensive side, but you get your moneys worth. We had a bedroom, a living room, a kitchen and a big beautiful bathroom.

The food from room service is really good and they're so professional. If you want to treat yourself with a luxurious hotel room when you're in NYC, I highly recommend it.
Rob B
6 years ago – Google
8
Just checked in. The problem with reviews on this property in the last year is that people aren't mature enough to be objective and differentiate between the man and a hotel with his name on it. Anyone giving a bad review is either anti Donald Trump and being petty or had an uncommon negative experience. Or there's also the possibility that they are pro trump and he can do no wrong so they give 5 stars. I am not a Trump supporter, but am grown up enough to objectively review this property. It's the second time we stay here. The executive suite & bathroom is spacious and clean & even though the bathroom is definitely older than the room they maintain it very well. The wifi is free and very quick. Outstanding service & staff, the best hotel pool & gym of all the places I stayed in the city, the restaurant /lobby bar is a 2 michelin starred restaurant on the ground floor. Nothing negative to say. The only reason I didn't give 5 star is that in the current price range there are more luxurious hotels in the city. We booked in September so we got an outstanding deal. Unbeatable location too.
John Smith
6 years ago – Google
4
The hotel is great, the people are great, the food was great, the view was great. Everybody says it's great. The weather there was great, the service was great. The room was great and the elevators were so fast you would just blink your eyes and you'll be on your floor. Everybody says the elevators are the fastest in the world. The building is so great it was built in 3 days, everybody said that.
stuart forbes
6 years ago – Google
10
Dinner at Jean-George. Absolutely Amazing dinning experience. We went for a birthday dinner. It was not cheap, so don't expect to eat like at McDonalds. The experience began at the door and ended with several surprises at dessert. The staff was so accommodating. If a foodie and enjoy fine dining its a must.
Claudia Berberi Jreissati
6 years ago – Google
8
Overall good experience. Got upgraded thanks to kiwi after 2 nights. Errors in the invoice upon check out. Lack of good service at the reception desk. Concierge was great and staff too! Great restaurant by Jean George.
Amber C
6 years ago – Google
10
Excellent location. Room was impeccable with tons of space and everything we needed. The highlight of our stay was the staff, which I cannot speak highly enough of. They were so friendly, accommodating and helpful. We had beautiful views, delicious food, wonderful amenities. We would absolutely stay here again when visiting NYC!
Andrew Erb
6 years ago – Google
4
Very... Trump. Not a great design aesthetic. The staff was nice and helpful though. But can't recommend the accommodation for the price. So many better options in the area.
Chad Hutton
6 years ago – Google
10
We stayed in a corner suite overlooking Central Park and Columbus Circle. It was an extraordinary view. The staff was very accommodating and helpful. The beds were cozy and the kitchen was stocked with everything we needed to cook dinner. We had a short walk across the street to Central Park then did some shopping at Columbus Circle where we found a Grocery. It was a very pleasant experience overall. We will be staying here again.
Allen W
6 years ago – Google
10
Great food great atmosphere. Service was really good. I enjoyed the people there.
C K
6 years ago – Google
9
My mother and I stayed here for 5 nights. We found the accommodations to be more than satisfactory. Our suite even had a small kitchen in it which we hardly used but would be great if needed! The room was clean and the bed was extremely comfortable. We used the Spa one day and I was thoroughly impressed with the staff and the fitness center; Merrick and Nina were fantastic at the spa! Though the hotel could use some modernization in decor and fixtures, I did not feel it was lacking by any means! The service was phenomenal and the employees were so pleasant. Tommy and Jesus were so welcoming and friendly every time we walked through the doors. Thank you Trump Hotel for a wonderful stay; we will be back!
Abd Almajhad
6 years ago – Google
4
It is really bad one compared to other 5 stars hotels. I got depressed when I entered the hotel, it has a very small lobby I can not even call it a lobby it is just setting area. At the time of check in be prepared to have enough money in your credit card as they charge $200 per room per night as blockage and you may count how much you will stay and how much they will book out of your credit card, this is really too much and I never have similar in any 5 stars hotel. Our story and honest evaluation is never end. The internet need registration and takes us time to be configured on our mobiles and it is only 4 devices per room with useless help from the hotel as IT left as per their statement. Third , I shocked with furniture is not as in booking picture. It is old. The fan in the bathroom and kitchen was not working. I just tried to express my bad feeling about what I have seen, I met a lady in the receptionist she advised that she is acting duty manager and here where the acknowledgment of the bad service when I talked to her about my feeling and it is totally different from what I have seen in Trump Washington, she was perceive my complain with low attention and mad mode I then I closed the conversation and I advised her if there is one other than her who can listen to my comments on a better way or I will not go further I told her I am I unhappy in how you deal with me in this way. I pay to get a service and better attention then I got upset and I left. The good people are the door men's are more pleasant than those in the reception. However I should not ignore that I asked to have my both rooms beside each other and they did. And they offered higher floor but I advised them if they are the same as our rooms and same furniture, then no need and thank you. I do not think I will be back again.
Jenn Lewis
6 years ago – Google
10
My sister and I had to get to the city and obtain a room on short notice because our mom was transferred to a hospital there! I can't say enough about how wonderful EVERYONE was from the phone call to book the room an hour before all the way through leaving four days later. The hotel was immaculate and the customer service is too notch! All of the staff was so considerate and always asked for my mom as they knew that was why we were staying. We were also always offered rides with the hotel driver, which was a huge help! Perfect location, excellent service, and worth the price! As always the Trump family represents pure class! Will definitely be returning.
Calvin Bryant
6 years ago – Google
9
We love it here. Great access to the entire city. Room was immaculate and staff were always happy and helpful. Subway access was directly in front of hotel. Hotel SUV shuttle was available every time we requested it... at no cost.
Central Park was a short stroll and a restful spot to 'people watch' after a long day on the town.
We'll be back soon.
Gabriella Maloof
6 years ago – Google
10
It was an amazing experience to dine at Jean George restaurant which is located in the Trump Tower. From the views, atmosphere, service to the taste and presentation of the food everything was excellent.
Kelven Opoku
6 years ago – Google
10
So beautiful and clean! My father has been working there for over 20 years now. He loves it!
Jonathan Kaplan
6 years ago – Google
10
Excellent lunch at Jean George's. Always amazing and well deserving of 3 Michelin stars both in terms of food and perfectly executed service.
Gary Pfeifer
6 years ago – Google
10
Superior Service. First class hospitality. Rooms could use a little better carpeting starting to age, but not a deterrent. Wonderful hotel
Anderson Charles
7 years ago – Google
10
I only visited the lobby area, as I was there for business. It's a truly impressive venue though. It definitely lives up to the hype. I doubt I could afford much more than a trip to its lobby.
Mary Pops
7 years ago – Google
10
We travel Europe once a yr for the past 17yrs. Been everywhere in Europe, at Trump International hotel in Columbus Circle we were treated great by the staff. We are middle class working people. We will return there next year.
onlao mbsrz
7 years ago – Google
9
From the moment you arrive until the time you check out, great experience. The room was clean, and great views. Impressive quality as well. We enjoyed the proximity to Central Park, and very close to all attractions by car, subway, and even walking.
Heidi Jacquin
7 years ago – Google
9
Love the location! Comfortable beds and you can pick the kind of pillow you want. The bellmen are amazing...the 2 bedroom suite is a wonderful amount of room for our family. Such a great location to take in all the best attractions in New York! Love it here!
D. DeCristoforo
7 years ago – Google
10
Amazing, top notch! Service was above and beyond. Jean George's 3 Michelin stars. Everyone knows your name. All clad cookware, Crystal glass, gas range, dishwasher in the room. Need I say more. I'm only staying here from now on.
Kerrie Justice
7 years ago – Google
9
We stayed at The Trump International Hotel and Tower in NYC and it was truly a five star experience! In addition to the exceptional room with a view of Central Park, I cannot speak highly enough about how kind and helpful each one of the staff members were! They know true customer service! I highly recommend Trump International Hotel and Tower!
Ashley Berman
7 years ago – Google
10
Couldn't recommend the Trump steak more highly! Well done and smothered in ketchup, perfect! The taco bowls are good too, but I still prefer to get mine at Trump tower. Best this side of the "wall!"

You really knocked it out of the park Donnie!
Ralph Gray
7 years ago – Google
8
This is a great place to stay, I loved my time here. I would go back in a heartbeat. The staff was extremely helpful and friendly and while the rooms are small, they are very well appointed and clean. The light breakfast in the morning and wine in the early evening added a warm and social side to the experience...
Carl Baker
7 years ago – Google
7
Great hotel if you are looking to stay in the Time Square area. Nice, quaint, secure, great staff and great continental breakfast. My only complaint is that our window was not fully able to be draped and therefore we could not exclude all light coming, in which is never good when staying close to Time Square.
Nicole McCarty
7 years ago – Google
10
We went to Jean George for lunch. It was the best meal we ever had. Both of us enjoyed the trading menu from the winter menu. Every course was perfect. Of course this place comes with a price tag, but it was worth every penny.
Matthew McDermott
7 years ago – Google
9
My stay was executive. The staff were some of the nicest people I ever met, the food was fantastic, the rooms and views were something else. Definitely worth the price and would most definitely stay again. Love ya Trump, keep doing what you're doing.
Tironsivjeter Shehu
7 years ago – Google
10
I do not know about the hotel, but i know about the apartments in that building. Very spacious and it is very strategically located. It is a mixture of hotel and sold apartments. On each window your breath is taken away.
It is a 60 mill view that I (or anyone I know (or anyone they know)) will pay for, but it is breath taking.
Tammy Ross
7 years ago – Google
5
Great location and great view. Very accommodating. Staff are very helpful and friendly. Hotel is located about one hotel away from the plaza. Amazing restaurants located right around the hotel such as Sarah Beth's and villagios.
ppaglian
7 years ago – Google
9
What a wonderful experience!! Coming back in March! Beds are super comfy and the restaurant is AMAZING! I am proud to support the President's last great project before sacrificing his life for this great country! Great job Mr. President!!
Annette H.
7 years ago – Google
9
My friend and I splurged on our stay here. We've both stayed in some very nice hotels but this one was epic posh. Our room was immaculate, second to none. You know how difficult it is to keep the edges of a faucet nice after a lot of use? Spotless. Or how few hotels vacuum the edges of the carpet by the baseboard? Spotless. Or how crazy it seems for a hotel to dress the furniture in light-colored fabric that is probably silk? They do and again, it was spotless.
We chose the larger suite with bedroom, living room and small kitchen. We never sought out the view of Central Park because we were just as happy with a city view. We were on the fifth floor and the floors were so QUIET. Everything from the pen/stationery set to the towels (thick and huge) were beautiful and plush. The Keurig machine was quiet, didn't know they could be. The nightly slipper service and treats on the nightstand were appreciated. My friend and I asked for a late checkout our last day so we could enjoy the room before we would have to go back to the real world!
When I returned home, I immediately started to prepare my husband for our upcoming stay at this hotel that he doesn't know about yet. :)
Yes, the lobby isn't very big, but I imagine the restaurant on the same level is the reason for that. The staff was fabulous - we especially loved Christopher who is from St. Louis!
Michelle O'Connor
7 years ago – Google
9
I ABSOLUTLY LOVE THIS HOTEL!!! Service is great and the amenities they offer are amazing! My family was a little uneasy about staying at this hotel when we travelled to New York due to the political side of the hotel but as soon as we got here we took back everything bad! Housekeeping was very nice and did an amazing job of their turn down service. Room had an amazing view and was newly renovated
We love President Trump Make America Great Again
7 years ago – Google
10
We love it very friendly and very helpful staff the food is great the service is second to none and the rooms are spotlessly clean.

Thank you to all the staff for your friendliness and your always can do attitude - it has been a pleasure of staying here.

Tyrone Lee and Jessica Sinclair.
Sunset Beach Hawaii
12/13/2016
BOQUET STROWBRIDGE
7 years ago – Google
9
If anyone is looking for a great deal on hotels you can check it out on HotelRaven. com Booked this hotel on there and they had the cheapest rates around...

This place was wonderful. I was pampered by the staff that was surprisingly diverse. This was confusing to me due to fake news outlets like CNN lambasting the Trump brand as literally Hitler for nearly a year. The food was great. Especially the Mexican food, I have to say it was even better than In Mexico. It was an immaculate experience.
C C-K
7 years ago – Google
10
This place was wonderful. I was pampered by the staff that was surprisingly diverse. This was confusing to me due to fake news outlets like CNN lambasting the Trump brand as literally Hitler for nearly a year. The food was great. Especially the Mexican food, I have to say it was even better than In Mexico. It was an immaculate experience.
M H
7 years ago – Google
4
Dear travellers, I don't know how to describe our stay, but let me tell you, this is NOT a 5* hotel. Staff at the front desk was quite rude. Chatty, but didn't explain anything, for example where is restaurant, bar, swimming pool, how is it with breakfast. We didn't like the room as we expected we booked an executive 1 bedroom suite with city view and they accommodate us on lower floor and what we could enjoy was the noise from the street and didn't look like on the picture shows at all. We came to hotel very hungry, so wanted to go to restaurant and we have been told, you need to wait 2 hours for table. Unacceptable, we are travelling and staying mainly in 5* hotels and it never ever happened to us that restaurant wouldn't keep at least 2 or 3 free tables for hotel guests. On the other hand staff in restaurant was very attentive I can't mention name of gentleman who was serving to us, as none of the staff wears name badge, but he was very nice to us and Patrick-bartender, made our evening more enjoyable. We ordered breakfast in the room, it was nice and tasty, but I couldn't help but notice the big hole on the tablecloth. I'm person who likes to see a positive site in everything, but I can't recommend this hotel at all, just waste of money.
Freddy Zalta
7 years ago – Google
6
Quiet than I wanted it to be. Expensive but the service was good
Tim Lippard
7 years ago – Google
9
We had lunch at Nougatine at Jean Georges in the Trump Hotel. All I can say is that it was top-notch. The food was fantastic. We did the 3 course prix fixed for lunch which was a great value for the money.
Padre t
7 years ago – Google
10
Stayed here last week..you might or might not agree with his politics but he sure knows how to run a hotel. A fabulous place great staff from the cleaners to the management, beautiful rooms and views from same...only 1 gripe - the shower, it could strip paint it was that powerful and was placed very low on the wall but only a minor gripe...WiFi very fast..huge tvs..lovely kitchens..coffee makers ...an iron..a safe..could go on and on. Will definately be back. The hospitality would rival anything you'd find in Ireland!!
Julian Kreutz
7 years ago – Google
10
In addition to the perfect spot of the hotel next to the central park and the luxurious standards of the room, the whole staff-members were friendly, helpful and made us feel very welcome and familiar. we were picked as "guest of the day" and received a free bottle of wine. on the day of check-out, we had a reservation at restaurant "zuma". when we arrived there, the staff told us, that our hotel spend us a cocktail for surprise. totally recommendable for a nice time in new york!
Bradley Olsen
8 years ago – Google
10
If you're trying to find a really great deal on this amazing hotel I'd highly suggest booking it through HotelRaven. Com They have great deals for it on there! Such a perfect place don't have enough great things to say!

My family and I stayed in room 1100 on 14 Feb 2016. The employees and the view of Central Park were both amazing. Early check-in is not guaranteed; however, I called to confirm and was told the room would be ready. When we arrived, the room was not ready and the flowers I purchased through the hotel were not in the bedrooms. That was disappointing. The pool is heated but was malfunctioning, so that was a one-off. Give valet at least twenty to thirty minutes to pull your vehicle.
Timothy Cardillo
10 years ago – Google
10
Stayed for Superbowl week. Loved location and Hotel service is exceptional. Dinner at Jean Georges was one best I ever had. Brûlée crusted Foie Gras on brioche was just amazing . Some peeling wallpaper and missing grout in tiles was not expected at a Trump property but easily overlooked by the amenities and service from the Hotel Associates . I had not been to New York for more years than I can remember but was a memorable experience.
Chelsea Peck
10 years ago – Google
9
fantastic service and located near central park, near all the great shopping. One of my favorite places to stay if I'm staying in midtown. Great everything here but it doesn't come cheap.
Kini Sanborn
10 years ago – Google
9
Fantastic service. Everyone I have come in contact with really gets service. The are spacious, elegant, modern and very comfortable. Love the over-sized towels, the gold amenity kits, the lovely welcome amenities and fast response to requests. Feeling just a little spoiled!
Sarah Ahmed
11 years ago – Google
8
*PARENTAL DISCRETION IS ADVISED*
okay so my names sarah and I was waiting outside the hotel for One Direction! The men in the front were very consider about the girls' safety. But when it was time for the boys to leave they wanted everyone behind a barricade. It got kind of crowded. Next thing I know a man is grinding me! I excuse it at first until a friend lips the word "his penis is out." I was ashamed and turned my back away from him. He vanishes in a bike and when I tell one of the men that worked there he stated "oh really" "seriously" He seemed considered but didn't do anything. This hotel is amazing and the men are sweet but I'm just trying to say watch out for a medium height mexican riding a bike. He placed his bike chain on his neck and left!
Last booked 4 minutes ago
2 people currently looking at this hotel