The Pierre, A Taj Hotel, New York
2 East 61st Street at Fifth Avenue , New York, NY 10065, USA
Tillgång
The Pierre, A Taj Hotel, New York
1) Pierre är för New York landmärke hotell beläget i hjärtat av Manhattan - på Central Park på 5th Avenue, som är den överlägset bästa platsen i staden. Hotellet har just genomgått en 100 miljoner renovering av alla rum, korridorer, allmänna utrymmen och i lobbyn.
2) Hotellet är bekvämt beläget från alla 3 större flygplatser i New York. 3) Alla 189-rum inklusive 49 sviter har genomgått en totalrenovering. Deras högt i tak och rikligt med dagsljus skapa en varm och inbjudande atmosfär av klassiska Manhattan stil bostäder med en känsla av lyx.
4) Pierre är en av de få hotell som ligger på Central Park, mellan 5th Avenue och Madison Avenue. Det är mitt i de bästa shoppingområdena i staden med ikoniska butiker som Barneys, Tiffany och Co, Bloomingdales och Saks 5th Avenue alla närbelägna. Central Park ligger tvärs över från hotellet där man kan njuta av en dag av ridning, cykling, skridskoåkning (på vintern) eller besöka den berömda Central Park Zoo. Många museer ligger runt parken inklusive Natural History Museum och Metropolitan Museum of Art.
5) Pierre är glada att tillkännage sitt nya partnerskap med Maccioni gruppen; de har öppnat en ny restaurang på The Pierre kallade Sirio Ristorante New York. Sirio Ristorante New York är uppkallad efter den legendariske krögaren Sirio Maccioni. Det kommer att vara systerkrog till Sirio Ristorante Las Vegas, och en del av Maccionis grupp av restauranger som omfattar Le Cirque och Osteria del Circo.

The Pierre New York is in the heart of Manhattan on 5th Avenue across from Central Park. The hotel is adjacent to the boutique stores of Fifth and Madison Avenues and provides access to the best shopping in the city. Iconic stores such as Bergdorf Goodman- Tiffany and Co.- Bloomingdales and Saks Fifth Avenue are all within steps. Guests can enjoy activities in Central Park including boating- biking- ice-skating and can visit the famous Central Park Zoo.

Vänta tills det bästa erbjudandet visas.
På TiCATi är vi glada att kunna presentera dig för de grönaste hotellen i världen. Våra dagliga handlingar gör skillnaden och världen bättre.
Tillgänglighet
The Pierre, A Taj Hotel, New York
2 East 61st Street at Fifth Avenue , New York, NY 10065, USA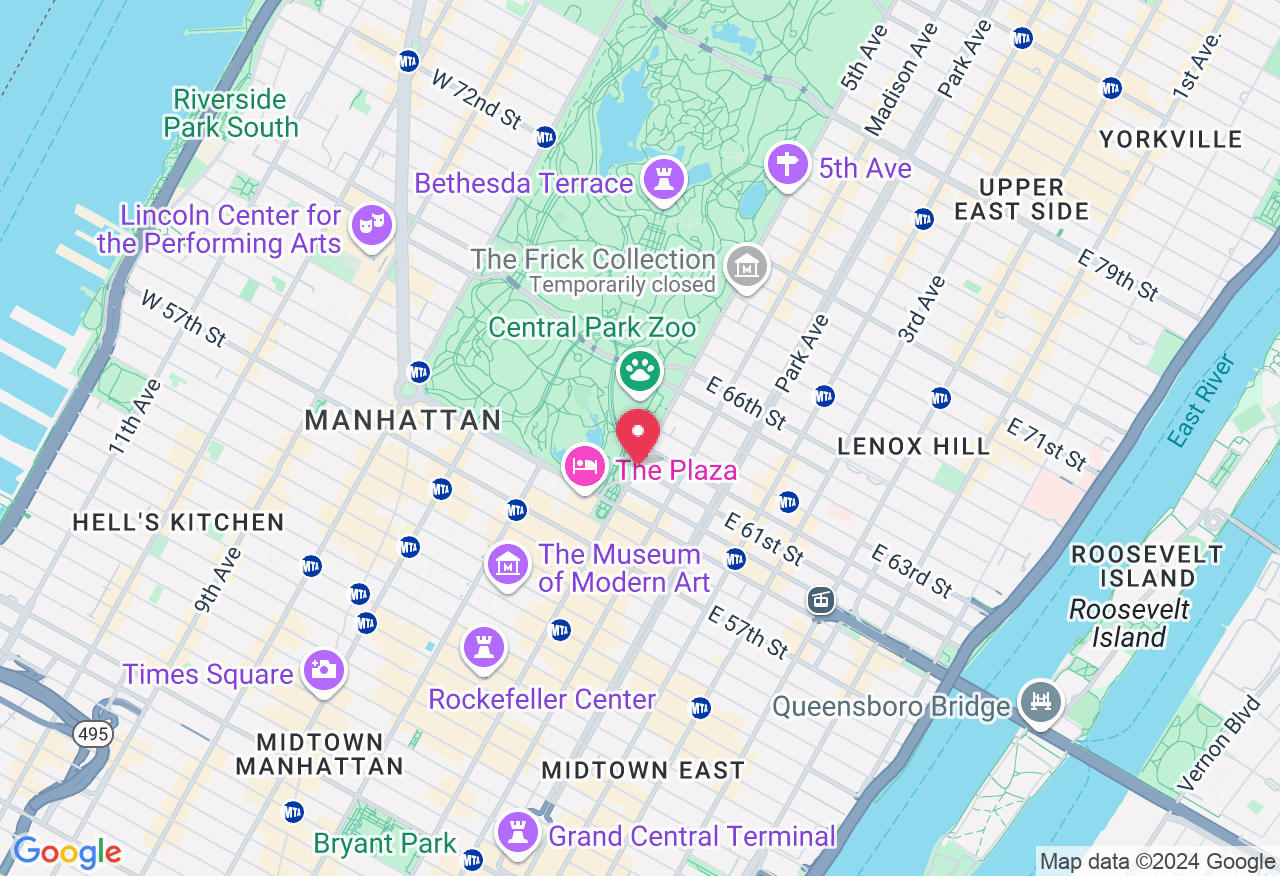 Tillgång
Kontrollera restid och avstånd mellan ditt hotell och din favoritplats.
Topp 10 attraktioner
Hotell
internet
GRATIS internet
Gratis trådlöst nätverk
Internet via bredband
Hög hastighet trådlöst
Transport
Gratis parkering
Inomhusparkering
Parkering på plats
Parkering
Tåg tillgång
Transport - lokalt
Betjänad parkering
reception
24-timmars reception
Flygbolaget skrivbord
Bagageutrymmet
Bell personal / porter
Biluthyrning
Reception
Tidig incheckning
Snabb in-
Snabb utcheckning
Sen utcheckning tillgänglig
Lagringsutrymme
Teknisk concierge
Teater reception
Videorecension fakturering
arbeta bort
Businesscenter
Företagstjänster
Faxtjänsten
Fotokopian centrum
Sekreterarservice
Översättningstjänster
Allmän
Luftkonditionering
Anslutande rum
Invändig korridorer
Icke-rökare
hotellservice
24-timmars bevakning
ATM / Cash maskin
Banktjänster
Valutaväxling
Jourhavande läkare
Kemtvätt
FRI skoputsning
Full service städning
Housekeeping dagligen
Tvätt / Vaktmästare
Flerspråkig personal
Plats tvätt
Högtalaranläggning
Safe
Säkerhet
Skoputsning stand
Stäng av tjänst
Betjänt samma dag kemtvätt
Wakeup tjänsten
utlopp
Skönhetssalong / salong
Blomsterhandlare
Present- / tidningskiosk
Frisör / Barber
Apotek
Att resa med andra
Barnpassning
Barnvänlig
DVD / video - barn
Familj plan
Husdjur välkomna
Tillgänglig
Lättillgängligt
Anpassade rum
Hissar
Händelser
Balsal
Måltids-och serveringstjänster
Konferenslokaler
Mötesrum
Bröllopstjänster
Miljövänliga anläggningar
NYC Carbon Challenge
Rum
Kommunikation
Högtalartelefon
Två telefon
Telefonsvarare
Specialfunktioner
Mörkläggningsgardiner / gardiner
Ljudisolerade rum
Badrum
Telefon i badrum
Dusch
Underhållning
AM / FM-radio
Bose hemmabiosystem
Kabel-tv
CD spelare
DVD-spelare
Gratistidning
Dockningsstation för iPod
Premium filmkanaler
Stereo
Tv
Video filmer
Företag
Dataport
Skrivbord
Telefon
Miljövänliga anläggningar
Molton Brown badprodukter
Allmän
Väckarklocka
Säker
Rökdetektorer
Rekreation
wellness
Hälsoklubb
Massage
Spa
Kondition
24-timmars fitnesscenter
Tyngdlyftning
Spel / filmer
DVD / videouthyrning
Mat och dryck
Måltidsplan
Frukostbuffé
Kontinental frukost
Full amerikansk frukost
särskild uppmärksamhet
Gratis kaffe i lobbyn
Lobby kaffeservering
tjänster
Rumsservice 24 timmar
Rum service
utloppen skriver
Salonger / barer
Restaurang
Frukost
Kontinental frukost
Full amerikansk frukost
Frukostbuffé
husets policy
Incheckningstid: 15:00
Utcheckningstid: 12:00
Avbokning
Hänvisas till beskrivningen av kurs plan  som bokat för ytterligare informationspolitik.
Res med andra
Barn policy
Please contact Reservations as depending on the family size certain categories may not apply.
Husdjur är tillåtna på begäran.
1. Hotel welcomes guests traveling with dogs under 15 pounds. Additional charge of 75 US dollars plus taxes per night apply.
Betalnings typ
concierge tips
This hotel have joined the NYC Carbon Challenge: the goal is to reduce citywide greenhouse gas emissions 80 percent by 2050.
välkommen kapacitet
Antal Mötesrum: 9
Antal sovande rum: 189
Största Mötesrum Storlek:

6000 sq. ft.
Parkering
Gratis parkering
Inomhusparkering
Parkering på plats
Parkering
Betjänad parkering
Bekvämligheter
Anslagstavlor
Installerad stadium
Videokonferenser
Kontroller värme / kyla
Hög hastighet trådlöst
Videoinspelning
Egen AV avdelning
Bildskärmar
Dansgolv
Blädderblock och markörer
Videokamera
Annan utrustning och anläggningar
Plattform
Naturligt dagsljus
Skärm
Trådlösa mikrofoner
I kulisserna projektor
Projektor
Miljö
Fastighetens miljövänliga åtgärd
---
NYC Carbon Challenge
Molton Brown badprodukter
---
Energi / vatten sparåtgärder, undvika avfall och resurseffektivitet
Låga koldioxidutsläpp kontroll
certifieringar
Earth Check Silver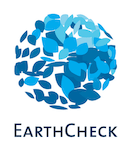 Earthcheck sexstegsprocessen börjar med benchmarking för att lägga grunden för hållbara metoder och slutar med flera nivåer av certifiering. EarthCheck tillhandahåller hotell med kvantifierbara mätvärden för att maximera gästupplevelser, minimera deras miljöavtryck och gynna lokalsamhället: • Vattenanvändningsoptimering genom regnvattenavverkning, återanvändning och återvinning av vatten och minskning av nattvattenförbrukningen per rum. • CO2 -utsläppsminskning • Avfallsminskning • Bidra till den sociala utvecklingen av lokala samhällen • Ansvarig inköp av lokala och rättvisa produkter • Öka användningen av förnybara och renare energikällor • Körande medvetenhet om miljöfrågor med kunder, leverantörer och målsamhällen i samhället • Användning av miljövänliga produkter • Rum med organiska madrasser och energieffektiva fönster • Livsmedelsprodukter kommer från lokalt och regionalt när det är möjligt, med preferenser som ges till organiska produkter när det är möjligt. • Kompostpolicy • Sourcing biologiskt nedbrytbara kemikalier
Leaping Bunny Non Tested on Animals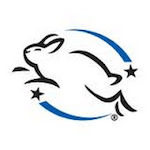 Koalitionen för konsumentinformation om Cosmetics '(CCIC) som hoppar på Bunny-programmet administrerar en grymhetsfri standard och den internationellt erkända hoppande kaninlogotypen för företag som producerar kosmetisk, personlig vård och hushållsprodukter. Leaping Bunny -programmet ger den bästa försäkringen om att ingen ny djurprovning används i någon fas av produktutvecklingen av företaget, dess laboratorier eller leverantörer.
WWF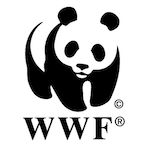 WWF syftar till att bygga en framtid där mänskliga behov tillgodoses i harmoni med naturen. Det är fokuserat på 6 ambitiösa mål med människor i centrum: WWF: s arbete har utvecklats från att rädda arter och landskap till att hantera de större globala hoten och krafterna som påverkar dem. Att erkänna att problemen som vår planet står inför blir allt mer komplexa och brådskande. Den nya strategin sätter människor i centrum och organiserar vårt arbete runt sex viktiga områden: skogar, marin, sötvatten, djurliv, mat och klimat. Genom att koppla dessa sex områden i ett integrerat tillvägagångssätt kan WWF styra alla resurser till att skydda utsatta platser, arter och samhällen över hela världen. Människor är i centrum eftersom vi tillsammans kan ändra banan i hoten mot naturen och hjälpa till att säkerställa naturens förmåga att tillhandahålla - för alla levande saker, inklusive oss själva. För att uppnå mål arbetar WWF för att utbilda och påverka människor att fatta hållbara val och beslut, inklusive de som arbetar i företag och fatta beslut kring användning av naturresurser och de som arbetar i regeringen och fastställer politik som påverkar naturen.
Mest användbara omdömen 9 15 omdömen
Chris Diktas
4 år sedan – Google
10
Amazing experience!!!
Attended a Wedding and next day Brunch. Food was exceptional,
And with over 450 guests
Served hot, and delicious.
Rooms clean,beautiful view of Manhattan and a super attentive staff.
Kristopher Salmon
4 år sedan – Google
10
Beautiful hotel. Great staff surface. Plenty of space in the room. Comfortable beds and couch.
Elkay J
4 år sedan – Google
10
Beef short ribs were amazing so was the dessert selections. Servers were very friendly and helpful. Wine list is very extensive. Would highly recommend
Julia Higgins
4 år sedan – Google
10
If you like the finer things in life, you may dig this hotel. It's beautiful and guest service is always amazing. Well... usually amazing.. last night a hotel operators demanded that my daughter and I get off the elevator saying it was too full. I've been on fuller elevators. It was not necessary and she was rude. But she is the only time i have experienced rudeness in a staff member. We come every summer.
Vibhor Makkar
4 år sedan – Google
7
Great location (across Central Park) and parking is a breeze. There is a parking lot right across the street. The moment you walk out of your car, you are pleasently greeted by the doormen. We attended a wedding and were amazed by the hospitality. For the place itself, a little dated, but regardless, still a beautiful place.
Dawn F.
4 år sedan – Google
9
Wonderful! Had "tea" with some lady friends. What an experience! Loved the finger foods, tea and especially the champagne! Used a Groupon offer, but still extremely expensive. The Pierre us absolutely beautiful!
Jason Fisher
4 år sedan – Google
6
My reason for going was to attend a social event in one of the event rooms. While the hotel is beautiful the room was hot and there was practically no ac. In the hotel it was cool and comfortable but as soon as you entered the events room it was the opposite. On top of that my girlfriend had placed a card she received at this event on the table as we got up to dance. When we sat back down the plates were cleared and so was her card. Speaking with a other waiter and the manager it became clear another staff member stole it. I would never voluntarily come back to this hotel again.
Mary ANN Oklesson
4 år sedan – Google
5
Awkward place for a trade show like Organics. Too crowded and no where to sit at lunch. The Mandarin was much better.
C F
4 år sedan – Google
9
One of the best hotels to stay in midtown Manhattan. Right across the street from Central Park and close to historical places in New York City. Variety of museums and shopping districts. Right off of 5th Avenue Posh shops. And other high-end stores.
Edward Rothman
5 år sedan – Google
8
Was attending a charity event. The room while a little dated, is Charming in its own way and is quite unique. Service and presentation were flawless. Overall an excellent event.
Yolanda Shoshana
5 år sedan – Google
10
I love the Pierre. It's packed with elegance and so much NYC history. The Organic Spa Magazine Travel Symposium was held at the hotel and once again, everything was great. The food, service, and event. You will feel like a Queen or King when you step into the hotel. It's magick!
Michael Ian
5 år sedan – Google
8
The dessert options are fantastic, and the food was amazing. Staff was incredibly friendly and the service was excellent. Not budget friendly but if you can afford it, I would definitely recommend grabbing a bite in their tea room
Brian Lepkowski
5 år sedan – Google
9
My wife and I originally booked the Plaza hotel for a couple nights and were tranferred to the Pierre due to staffing issues at the Plaza that made them unable to accomidate guests for the weekend .

What a great opportunity that turned out to be !

We initially spoke with Ana at the front desk who was wonderful. After learning that we were in town celebrating our wedding anniversary she took it upon herself to upgrade our room to a top floor with a spectacular view of the park and upper east side !

My wife and I had an amazing time and Ana along with all the hotel staff were incredibly friendly , helpful and really know how to treat their guests. They all exceeded our expectations and made our first stay at the Pierre a very memorable experience.

My wife and I will definitely stay at the Pierre again and can't wait for our next opportunity to do so !
Sophia S.
5 år sedan – Google
10
Great service! Awesome food! Classy and gorgeous.
Petrus Aloisius
5 år sedan – Google
9
I've stayed at The Pierre Hotel for a week with my family. It has been a wonderful experience in a great hotel. All was extremely nice and cared, starting from the magnificent main lobby, arriving to the spacious (compared to others five stars hotels in Manatthan) and clean room.
In addition is remarkable the kindness and politeness of all the hotel staff: concierges, receptionists, doormen, elevator operators (yes, this hotel has also a operator for each elevator), and housekeepers.
The breakfast is excellent, and various.
The hotel offers also a large number of lovely complimentary services and amenities, such as a very convenient and stylish drop off service in Manhattan, operated by the Hotel Car, a Jaguar limousine.
Must be underlined also that the Hotel is children friendly and provides them a large number of amenities and toys, in order to make their stay more enjoyable.
It is indubitably a truly luxury and great hotel.
Shawn Theodoran
5 år sedan – Google
10
If you come here you will be treated better than 90% of the hotel's not only in New York but all over! I have traveled a lot and The staff here is Some of the best you will find!!thank you very much guys!
Stephen Elliot
5 år sedan – Google
5
I've only been here for events (not an overnight guest), but the staff is too snobby for my taste. Maybe that's part of the authentic French flair...
Eduardo Martinez
5 år sedan – Google
7
It was breathtaking indoors. Felt as if I traveled back in time into the opulent and luxury of the 1920s. Massive halls and beautifully lit lobbies made you feel cozy and as if you were in another city not in the US. The only negative that I can talk to is that the bathrooms had a smell of vintage to say it nicely AKA old smell it wouldn't hurt to do a little bit of remodeling and renovating inside the bathrooms.
El M.
5 år sedan – Google
8
I did not stay at the hotel, but I had dinner there. The inside of the hotel itself, however, is gorgeous. You'll feel like you walked into the Sistine chapel. The service was very good for dinner, and the food was good as well. A bit on the salty side for the appetizer and a tad too sweet for the dessert, otherwise it was great.
Akshay Gaikwad
5 år sedan – Google
7
Went to the Perrine at the Pierre as part of the restaurant week.

I'm a vegetarian by choice so I'm usually sceptical about fancy places as I know how meat tastes and it's usually hard to make vegetarian food taste that good. But Perrine was an exception!

The first course was the best butternut squash soup I have ever had. I'm a snob with that, I either love it or hate it. This was right on top on that list. I'd recommend to just go there for the soup alone. The breads were fresh and went perfect with he soup. Others tried the tuna tartare and the salad, both I hear were good.

The main course was roasted farm veggies. They we're not my fav veggies as they were the ones on the sweeter side of the spectrum - beets, carrots etc. But the texture and consistently was on point. Did not feel full after it. I would say it was solid, not my favorite though as it felt too sweet after the soup. Others had the fish (bass) and lamb chops (medium) - they were excellent apparently.

The dessert was the classic French brulee. Perfect. Accompanied by Madeline, that went well.

As a plus, the adjoining dining room is absolutely stunning. I could sit there reading a book and having my coffee all day long. Would recommend just to see that!

A special mention about the service. Had 2 servers both tried to be funny and not overwhelm with unnecessary suggestions. Did mind our table very well without being noticed or intrusive.

All in all I would say totally worth it!
Kevin Smith
5 år sedan – Google
10
Truly one of the great hotels left in New York City. The staff are at the pinnacle of their profession. There is nothing one could say badly about this gem. I know. I looked. It is just that good.
Colki Garsón
5 år sedan – Google
9
Park view room is small but does have an amazing view of central park and the city to the north. Breakfast in Perrine is very good. Location is excellent for central park. Overall staff is first class.
Mike Pearson
5 år sedan – Google
10
We had our annual company holiday party there. It was exquisite. They did a really fantastic job. The food was delicious and the spread was huge! The service was so attentive and cordial. Loved it! They really made it a special night to remember. Thank you!
Krystal Churchwell
5 år sedan – Google
9
My MIL took me here for my very first high tea which turned out to be amazing. The tea was delicious and the food was to die for. I highly recommend.
Mark Measures
5 år sedan – Google
6
Went to a function here. Very old fashioned. 1965 wants it's decor back.
Larry Diamond
5 år sedan – Google
8
Attended the Citizen's Union annual awards dinner. Event was a success. The elegant hotel feeling a bit worn but it is still a "grand dame".
Mike Freedom
5 år sedan – Google
10
We stayed at this hotel when we went to New York. The hotel is state of the art beautiful. You feel completely pampered the entire time. Staff is helpful and pleasant. Concierge truly made our stay even more pleasurable. Expensive, but worth it. Plan to stay here the next time we go to New York.
JP de la Houssaye
5 år sedan – Google
10
What a great place to stay in NYC. The location is absolutely perfect, 5th Ave must I say more? The staff was so friendly and accommodating. The room was beautiful and extremely comfortable. A must stay!
Julia Higgins
5 år sedan – Google
10
I love staying in a hotel that has elevator operators! This hotel is beautiful. The staff went above and beyond. I had room service 3 days in a row. Love the coffee. I also really like their shampoo. I'll be coming again next summer. Watch out!
3 Day Blinds
5 år sedan – Google
10
amazing hotel facilities. friendly and professional staff that accommodates your needs during your stay. I love the room arrangement and the comfortable beds. really loved staying here.
Melody Aboutalebi
5 år sedan – Google
10
Impeccable service and a clean, beautiful facility! Our family of 14 had an incredible and legendary experience at this hotel this past weekend! Amazing location right beside everything! We will definitely be back! Thank You!!
Yong Zheng
5 år sedan – Google
10
Had high tea there. It was a pleasant experience. Mini sandwiches were fantastic. Much better than Russian tea place.
Keira Chu
5 år sedan – Google
10
Absolutely love the location as it was across the street from Central Park and near all the lovely shops in Upper East Side.

Service is top-rated- they all remember our names (a little spooky but sweet!).

This hotel and Carlyle are the only two hotels left in NYC that has people manning the elevators - very endearing and old-school!

There are also treats for the kids upon check-in: an elaborate spread plus an adorable penguin stuff animal. What a lovely touch.
corey model
5 år sedan – Google
10
Nice food for a large social event. A great dance space with surrounding tables. The bathrooms had some stalls that didn't lock which is a minor problem but honestly dissapointing.
T S
6 år sedan – Google
10
My husband and I planned a several day getaway and are very happy that we stayed at the Pierre! The location is excellent and we were able to walk to many of our planned entertainment destinations. The staff was very warm, helpful and accommodating. Our room was an upgraded suite on a high floor over looking the city. The room was comfortable, great amenities and clean. The maid saw my book on the coffee table and put a Pierre bookmark on top! In addition, we had dietary restrictions and they went out of their way to meet our requests. Looking forward to returning one day. Thank you Jacqueline, Doris, Khathy and Carmine!

The Schnalls
debbie veliz
6 år sedan – Google
10
If anyone is looking for a great deal on hotels you can check it out on HotelRaven. com Booked a room on there and they had the cheapest rates around...

After arriving quite late due to a rerouted flight, the staff checked us in and found a suitable nearby place to eat. The concierge called up to our room to confirm that he arranged to keep the kitchen at the restaurant open. We would have had to run to make the cutoff otherwise. Great little touches like fresh flowers and having concierge know us by name really made the stay special.
Kristine Renee Farley
6 år sedan – Google
10
I was there for a work event. This hotel is absolutely gorgeous. They were very accomodating to the large numbers we had going in & out of the hotel, as well as equipment despite the delicate decorations.
Sam Barnum
6 år sedan – Google
10
After arriving quite late due to a rerouted flight, the staff checked us in and found a suitable nearby place to eat. The concierge called up to our room to confirm that he arranged to keep the kitchen at the restaurant open. We would have had to run to make the cutoff otherwise. Great little touches like fresh flowers and having concierge know us by name really made the stay special.
Ralph Gray
6 år sedan – Google
7
Susan and her staff are friendly and knowledgable about the city and it seems like they are as excited about your daily adventures as you are! They welcome you to sit down and share your day or enjoy some quiet, private tine with your loved ones or friends with a glass of wine by the fire. They find the right balance! The rooms are lovely and 'NY Intimate' and if you think the rooms are too small then you are spending way too much time in your room in a great city in a great boutique hotel! Well done Susan and staff!
alice campbell
6 år sedan – Google
10
If you visit New York city, and you choose to stay at the Pierre, you made two great choices. The city and the hotel. you've actually made the perfect choice when it comes to the hotel. The location is ideal. And so is the service and the rooms. From the moment you walk in, you feel welcome. You're greeted with.
Tanner Faucett
6 år sedan – Google
10
Very high class. Every employee at the hotel treats every guest like royalty. The room was beautiful, the decor was perfect. Convenient location. Best hotel bathroom I've ever seen.
gloria warner
6 år sedan – Google
9
This hotel is iconic, historic, beautiful, and perfect, situated across the street from the very best of Central Park, on 5AV...it is the place to be. Very quickly, you'll feel as I have come to know this place as my home in NYC
Martha Rivera
6 år sedan – Google
10
Great value for your money, centrally located, wonderful staff and excellent service. Truly 5 stars & 5 diamonds would highly recommend to everyone. Doesn't matter if you're traveling on business or pleasure there's something for everyone.
martin long
6 år sedan – Google
10
I spend a lot of time in NYC hotels and our time at The Pierre was among the most enjoyable. The staff was always professional but not stuffy and got us whatever we needed. The Pierre is an old-school 5 Star experience and that is a diminishing thing in NYC.
lauren romao
6 år sedan – Google
10
5 Star experience all the way! Came for a Christmas party and had a great time.
Amanda Spero
6 år sedan – Google
9
Fantastic place for a holiday event. Not only is the service stellar, but the atmosphere is just gorgeously decorated in the holiday spirit.
Dwight Williams
6 år sedan – Google
7
Holiday party at the Pierre. excellent food, attentive service, great ambiance!
Ivangellys Gonzalez
6 år sedan – Google
9
Amazing from start to finish. The driver was very friendly and stopped to take pictures for us in the Jaguar!
The front staff was warm and welcoming, the atmosphere was very sophisticated and upscale.
Everything was perfect, thank you for the memories Pierre !
Gina Beyer
6 år sedan – Google
8
Classic NYC hotel and event space that needs a facelift. Excellent location if you plan to explore 5th Ave shopping, upper East side museums or Central Park. Staff are very nice. Good, fresh food.
Kilo 64
6 år sedan – Google
10
No words can describe the service at this place. In summary - I ordered a custom Indian dish not on the menu, went to Broadway show and came back late past midnight - called to deliver food and it was delivered hot and fresh. Amazingly tasty and when I called back to commend the chef - he LEFT 5 mins after my food was delivered. Apparently the chef waited 7 hours PAST HIS SHIFT FOR ME so he can cook and deliver the food on time for me ... I felt horrible but I couldn't thank the Chef enough.. Amazing Taj always amazing !!
Rafael Yau
6 år sedan – Google
10
Great hotel, the staffs are friendly and attentive. Atmosphere is cozy and lovely. Rooms are clean and comfortable. I suggest getting a room near the top floor so you can get a great view of central park and the city. Overall great experience, it's expensive to stay here but worth it.
ragarwal1
6 år sedan – Google
7
I went there to meet a guest and found the experience to be smooth. Room service was good

Marianne Pena
6 år sedan – Google
9
The Pierre was absolutely incredible. My Senior Prom was held at The Pierre and the staff were incredible. The food was exquisite and the entire event ran smoothly thanks to the staff of The Pierre. Would definitely recommend the venue to those throwing a party or a wedding reception.
laurie mckenzie
7 år sedan – Google
10
we stayed for the weekend of feb 19. the staff could not have been more attentive. they were aware we were celebrating a birthday weekend and they went out of their way to make my husband and I feel special. the location is perfect- across from central park and we could see the park from our window. THANK YOU for a wonderful stay! we will be back!